Behavioral Science
The Bike Shed Effect: The Law of Triviality
The amount of time spent discussing an issue in an organization is inversely correlated to its actual importance in the scheme of things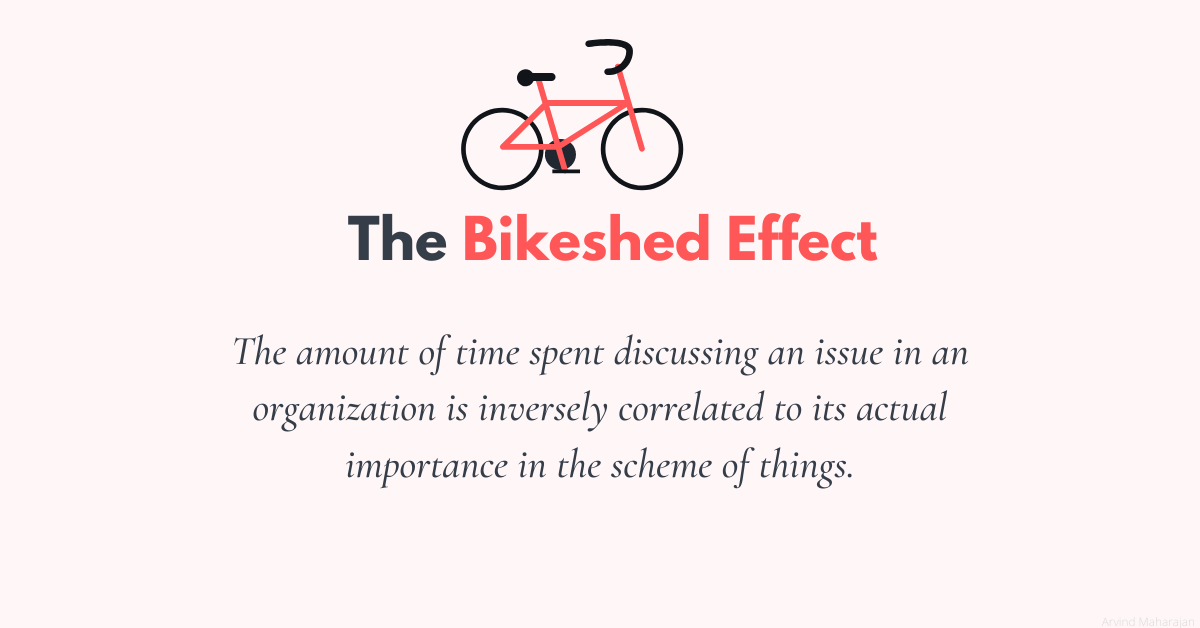 💡
"The amount of time spent discussing an issue in an organization is inversely correlated to its actual importance in the scheme of things." - Cyril Northcote Parkinson
The Bike Shed Effect is a metaphor used to illustrate the strange tendency we have to spend excessive time on trivial matters, often glossing over important ones.
Let me explain with an example. Imagine a financial committee meeting with a 3-point agenda:
A Proposal for a $10 Million Nuclear Power Plant
A Proposal for a $350 Bike shed
A Proposal for a $21 Annual Coffee Budget
Guess what happens?
The committee ends up running through the nuclear power plant proposal in little time. It's too advanced for anyone to really dig into the details. One member who does is unsure how to explain it to the others.
The discussion soon moves to the bike shed. Here, the committee members feel much more comfortable voicing their opinions. They all know what a bike shed is and what it looks like. Several members begin an animated debate over the best possible material for the roof, weighing out options that might enable modest savings. They discuss the bike shed for far longer than the power plant.
At last, the committee moves onto item three: the coffee budget. Suddenly, everyone's an expert. And you know what happened next.
Why does this happen?
When something is outside of our circle of competence, like a nuclear power plant, we don't even try to articulate an opinion. But when something is just about comprehensible to us, even if we don't have anything of genuine value to add, we feel compelled to say something, lest we look stupid.
Does this happen in your office meetings or email threads too? Share your experiences below.
References:
Read the original blog post @ https://fs.blog/2020/04/bikeshed-effect/